One Day Only Oregon fishing licenses are available for purchase at the general store.
Only 12 years and up need a fishing license.
Complete Oregon fishing regulations along with boat rentals available at the general store or online here at myodfw.com.
Life jackets are included in all rentals.
A full line of basic fishing equipment can be purchased in the store.
MOTORS ARE NOT ALLOWED ON LOST LAKE.
NOTE: Lost Lake Resort does not offer any kind of seasonal fishing license. If you do not have a license and plan on fishing Lost Lake for more than one day we recommend you purchase a seasonal license in town. Walmart (off of I-84) or McIsaacs' Parkdale Farm Supply (4966 Baseline Dr, Mount Hood Parkdale, OR 97041) are good places to stop.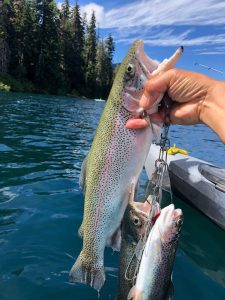 FISH LIMITS
Visit the ODFW website for full fishing regulations.
Recommended flies and how to fly fish our wonderful Lost Lake – written by the Gorge Fly Shop.
Lost Lake Fly recommendations – written by the Gorge Fly Shop
the tale of walter

No self respecting lake is without it's legendary "ONE THAT GOT AWAY" story and Lost Lake is no different. Ours is named Walter. He lives in the inky darkness near the bottom of the lake but occasionally rises up to steal bait and torment the anglers. He is rumored (of course..) to weigh 50 pounds or more. Walter is said to have a full "beard" made up of thousands of dollars of lures and broken line. It is our heartfelt wish that you be the one who proves to be a match for Walter. Good luck and we hold no hope that any will succeed.