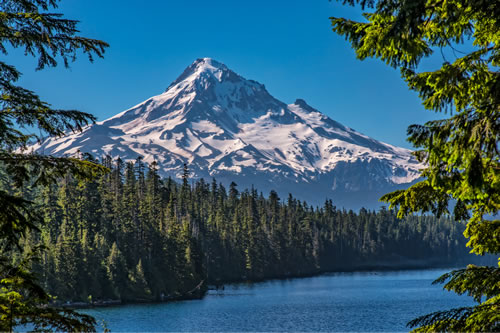 In the early 1800's, Lost Lake was used primarily by Native Americans who came to the area to harvest huckleberries. They called the lake E-e-kwahl-a-mat-yam-lshkt, meaning heart of the mountains. The first documented visit to the area came from Euro-American explorers Joe and John Diver in 1873. The lake finally got its name when adventurer Ezra Smith set out to find the lake as mapped out by the Divers. When Smith had difficulty in finding the lake, he came to the conclusion that it was not their party who was lost, but rather, the lake.
The US Forest Service obtained the title to the land in 1922, and it is one of the oldest camping resorts in Oregon. The lake is bounded on the east by 4,468-foot Lost Lake Butte and on the southwest by 4,556-foot Preachers Peak. It is fed by three unnamed intermittent creeks from Lost Lake Butte, and Inlet Creek from Preachers Peak. It is the second-deepest lake in Mount Hood National Forest at 167 feet.
We offer yurts, cabins, lodge rooms, over 150 tent sites, and organizational camping too. Want to take a hike? Lost Lake hiking trails range from 1/2 mile to 3.2 miles and allow views of Mt Hood, Mt Adams, Mt Jefferson as well as access to the Pacific Crest Trail.  We have row boats, kayaks, clear bottom boats, pedal boats, and stand up paddle boards for rent at the north side day use area. Our general store has just about everything you'd need during your visit, plus souvenirs and gifts as well. And be sure to visit our newly opened LL Grille for a juicy burger, hand made milk shake or grab a local beer from the tap. Whether you're visiting for the day or longer, we're happy you're here!