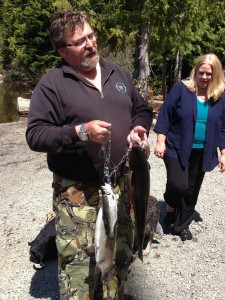 One Day Only Oregon fishing licenses are available for purchase at the general store.
Only 12 years and up need a fishing license.
Complete Oregon fishing regulations along with boat rentals available at the general store or online here at myodfw.com.
Life jackets are included in all rentals.
A full line of basic fishing equipment can be purchased in the store.
MOTORS ARE NOT ALLOWED ON LOST LAKE.
NOTE: Lost Lake Resort does not offer any kind of seasonal fishing license. If you do not have a license and plan on fishing Lost Lake for more than one day we recommend you purchase a seasonal license in town. Wal-mart (off of I-84) or the Gorge Fly Shop (also located off of I-84 at 201 Oak St. Hood River) are good places to stop.
FISH LIMITS
Visit the ODFW website for full fishing regulations.
Recommended flies and how to fly fish our wonderful Lost Lake – written by the Gorge Fly Shop.
Tackle and Techniques: Use a small hook with a pea to marble size piece of floating bait suspended off the bottom with a 2-3 foot leader above a sliding weight.  Baits such as worms or salmon eggs suspended beneath a bobber is another technique. Use a small bobber with just enough weight rigged 1-2 feet above the hook.  Casting lures such as spinners and spoons will also catch fish. Fishing sand shrimp beneath a bobber can be productive for the surplus hatchery steelhead.
The Gorge Fly Shop is a full service company dedicated to providing the best customer service possible. Centered in the heart of beautiful Hood River, Oregon.  This shop attracts sportsmen from around the world. They carry a full product line to compliment your fly fishing needs.
Lost Lake supports a popular rainbow trout fishery. Legal-sized rainbow trout are stocked in the spring (March-May). Larger (approx.14 inch) trout are stocked in mid-June. Trophy trout (approx.18 inches) are stocked in mid-September. Surplus hatchery winter steelhead are stocked when available from December to February. These fish average about 6-8 lb.
the tale of walter

No self respecting lake is without it's legendary "ONE THAT GOT AWAY" story and Lost Lake is no different. Ours is named Walter.  He lives in the inky darkness near the bottom of the lake but occasionally rises up to steal bait and torment the anglers.  He is rumored (of course..) to weigh 50 pounds or more.  Walter is said to have a full "beard" made up of thousands of dollars of lures and broken line. It is our heartfelt wish that you be the one who proves to be a match for Walter.  Good luck and we hold no hope that any will succeed.